Store Credit FAQ
4/24/23 UPDATE: See changes under "Do I need to make an appointment" for drop-off changes.
CAN I BRING IN BOOKS FOR STORE CREDIT?
Yes! Accepting books for store credit helps to keep our inventory fresh. We also love to know which books you liked, in order to be able to recommend them to other readers.
WHAT KINDS OF BOOKS ARE YOU LOOKING FOR?
We accept everything. We are especially looking for non-fiction (especially science, history, native american, art and music), children's books, teen books, foreign language books (especially Spanish) and science fiction or fantasy. 
The owner may refuse specific books if the condition is poor or has a history of not selling in our store. We do not accept magazines or VHS tapes.
HOW MANY BOOKS CAN I BRING IN?
Due to time and resources, please limit your delivery to less than two medium sized boxes a week, in store. Due to time and space, employees may not process books one at a time, and will instead give you store credit by the box, so you can use it immediately. If you have more books to bring in, please call ahead for an appointment to drop off books either at our stores or in our warehouse.
You may have a maximum of $500 in store credit on your customer profile.
DO I NEED TO MAKE AN APPOINTMENT?
Appointments are currently not necessary for small donations. The best days for drop-off are Tuesdays and Wednesdays.
However, our ability to process store credit can change on a daily, and sometimes hourly basis, depending on what is going on at the store. We have implemented a "Book Trade Stoplight" process. On the door window you will see one of three signs, pictured below. These indicate the quantity of books we can take at any time. You can also call during business hours to learn the current status.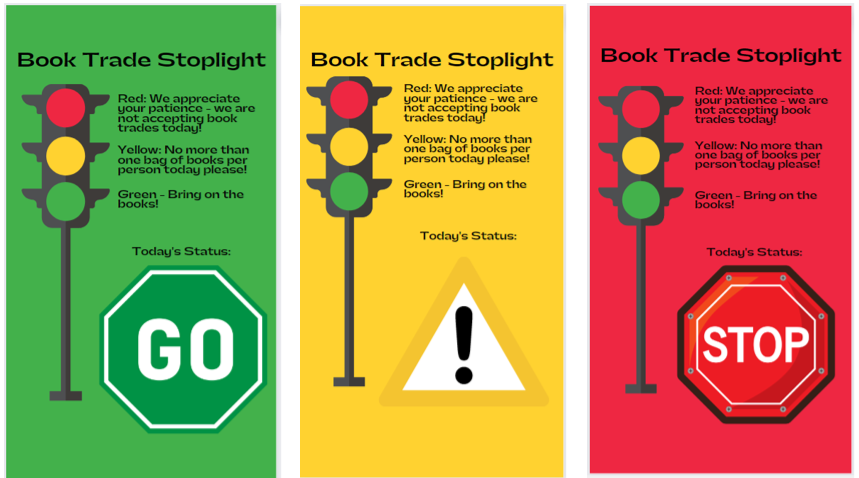 DO YOU PAY CASH FOR BOOKS?
Sometimes. Rarely. When we do it is usually for high quality collectors editions or rare books paid for by the box or bought in bulk. We will pay for estate lots. To arrange pick-up of an estate, please call ahead, giving us a minimum of 48 hours to schedule to good time. 6/25/22 UPDATE: We no longer have a warehouse, so due to limited space we are being very selective about the books we pay for and may turn down perfectly awesome piles of books due to space and time. We are sorry for the inconvienance.
HOW DOES YOUR STORE CREDIT WORK?
To receive store credit a profile is created in the bookstore system. Profiles can be by individual or family. When scanned in, the credit applied will be approximately 30-40% of the store price, depending on the condition of the book. The store price is based on a percentage of the publication price, condition, and demand for that particular book. When giving store credit by the box it is generally $10-$30 per box, depending on our estimate of being able to resell the contents of the box.
When you purchase books from the store, the store credit will cover 50% of the cost of the book. For example, a book costs $5. Store credit covers $2.50, you pay $2.50, plus tax. When you run out of store credit, your book purchases will return to full price.
Store credit cannot be used on gift shop items, consignment books, or special order books.
WHY DOES STORE CREDIT ONLY COVER 1/2 THE COST OF THE BOOK?
Running a business takes money. We can't pay our rent, the electric bill, or our awesome employees in store credit. We appreciate you bringing in your books, and want to help you get a deal. Doing 50% off lets you get a deal on already marked down books, and helps us to make sure we can pay our bills and stay in business. We appreciate you understanding.
I DON'T WANT STORE CREDIT. WILL YOU JUST TAKE MY BOOKS?
Yes. Thank you so much. Because of the books recieved from the community, we are often able to pay it forward by supporting local classrooms, school libraries, prison/jail libraries, and other non-profits.
CAN I GIVE MY STORE CREDIT TO SOMEONE ELSE?
Yes! If you have someone in mind, that is fine, otherwise, there are dozens of teachers who use HideAway Books to stock their classroom libraries who would love a store credit donation!
DO YOU GET THE BOOKS THAT ARE DONATED THROUGH PARKING LOT BINS?
Those bins do not belong to HideAway Books. Books can be brought in to either store location, or we can do free pick ups if you are disabled or have a large (truck load) amount.